For those who want visual reminders of the spiritual meaning of Christmas, prompting themselves to remember the ways Christmas, and Jesus' coming, give us access to hope, love, joy, and peace all year long.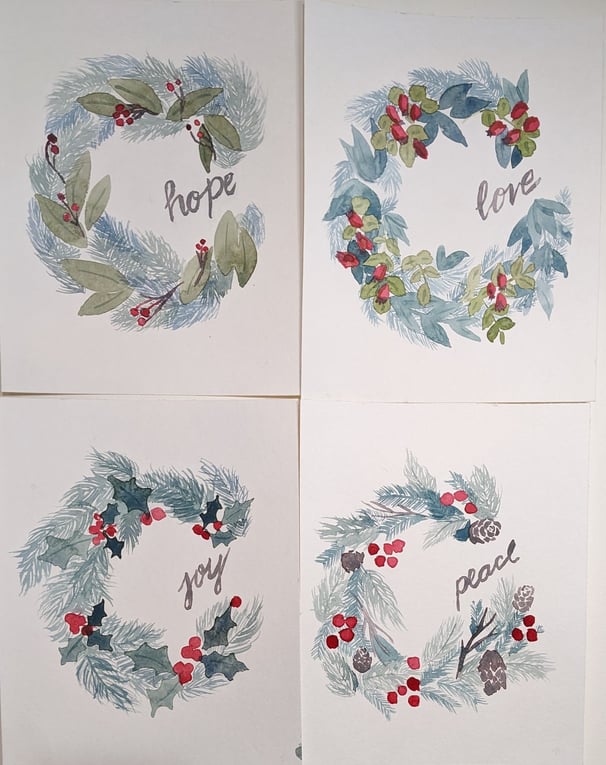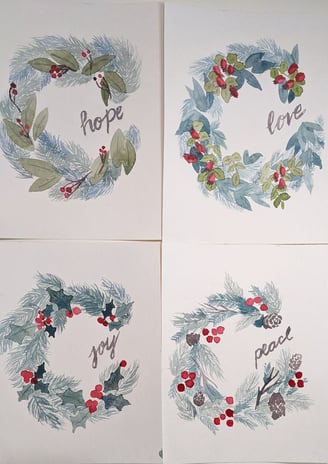 Christ-Centered Christmas
These paintings are straightforward visual cues because they include the theme word for each week of Advent. Each time you see a wreath, you can be reminded to pause and meditate on the ways Jesus' coming is a source of hope, love, joy, and peace all year long.
Bring peaceful reminders of a Christ-centered Christmas into your space to help focus your thoughts and meditations on the fouro movements of Advent, preparing your heart for the coming of Christ.
I've been there. I've expereinced having beautiful intentions for the holiday season of prioritizing Jesus, the gospel, and a pace that would allow room for slowing down... and for those intentions to crumble.
Practicing Advent these past two years, with the weekly and daily rhythms, has helped turn that around for me.
Help this Christmas season, this Advent, stand out with these watercolor Advent wreaths.
They are available in two ways:
As 8x10 prints for display in your space

As blank notecards for sending to others
To recieve your Advent wreaths before Advent begins (December 3rd), I'll drop them in the mail on November 22nd. That means you need to place your order by 9AM (CST) November 14th.
Use the buttons below to place your order!